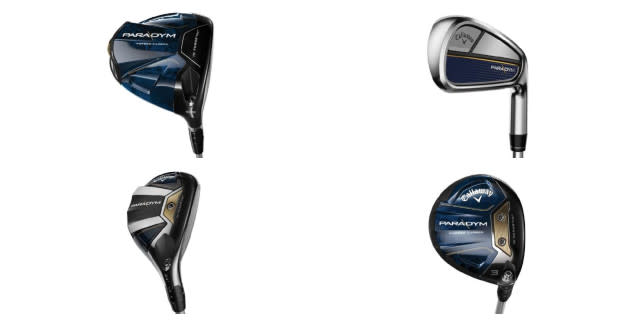 Callaway has ushered in 2023 with the blockbuster unveiling of its new Paradym family of golf clubs that are set to make a major impression on the marketplace this year and beyond.
Headlined by the Paradym Driver, which has been reimagined from the ground up, the revered manufacturer has sought to deliver the greatest distances without trading forgiveness. Likewise, the Paradym Irons retain the yardages that golfers are seeking but without compromising on the feel that the best players desire from their equipment.
Consequently, you have a complete range that is a hugely impressive addition to the Callaway canon.
The Paradym Drivers
Described by Callaway as a radical and complete shift in performance, the new Paradym Shift Construction features an industry-first 360 Carbon Chassis, eliminating titanium from the body, which pushes weight and stability to the limit. 
Showcased in three defined models, the Paradym Driver provides a refined shape with high MOI and adjustable perimeter weighting and has been engineered for players of all skill levels, promoting high launch and low spin characteristics along with a neutral ball flight.
Whereas, for those after extreme forgiveness, the Paradym X model is built for a high launch with high MOI, along with a generously stretched profile at address.
Finally, Paradym Triple Diamond model is compact, 450cc shape designed for better players who want to work the ball. It's the lowest spinning and lowest launching Paradym model with a neutral ball flight. 
Product Available at Retail: 24/02/2023, RRP: £599
See Ryan Rastall's Full Review on Golfshake!
The Paradym Fairway Woods
Like the drivers, it's a total Paradym shift in distance and forgiveness. This completely new construction eliminates weight from the body and repositions it for unprecedented gains in speed and MOI. Plus, each of the three models have been uniquely designed with a specific player in mind to fully maximise their performance.
Starting with the Paradym Fairway Wood, golfers can expect progressive shaping and a model for those who want a high launching fairway wood with a neutral ball flight.
The Paradym X Fairway Wood will fit players looking for the most forgiving shape with a high launch and a slight draw bias. A Forged Carbon toe patch redistributes weight to the heel to make this fairway wood easy to turn over.
Best suited for stronger players who are looking for a penetrating ball flight with lower spin, Paradym Triple Diamond features a compact fairway wood shape with a deeper face at address.
Product Available at Retail: 24/02/2023, RRP: £379
The Paradym Hybrids
Two new hybrids join Callaway's offering as part of the Paradym range, featuring a Cutwave Sole design that improves the club's performance through the turf.
Placing a distinction between the models, the Paradym is for golfers who want a mid-sized, wood-shaped hybrid that's long with versatility and control, while the Paradym X model is for golfers looking for full-sized, wood-shaped hybrid that's long with versatility and forgiveness.
Product Available at Retail: 24/02/2023, RRP: £299
The Paradym Irons
Looking to find the perfect marriage between distance and feel, Callaway's Paradym Shift Construction combines a Forged 455 Face with the all-new Speed Frame, giving you the best of both worlds.
More specifically between the respective models, the Paradym Iron is designed for golfers who are looking for a players' distance iron with a refined shape and premium forging, while the Paradym X Irons are engineered for golfers who are searching for an iron that's incredibly long with premium forged feel. 
Product Available at Retail: 24/02/2023, RRP: £1,199 (Steel), £1,299 (Graphite)
---
For more information, please visit https://www.callawaygolf.com/