Shot Scope has established itself as one of the market leaders in golf data collection.
The Pro LX+ is one of its premium products, offering a combination of its Pro LX laser guided rangefinder, and the detachable H4 GPS unit, which doubles up as a performance tracker. Both units can be bought separately.
Tech Specs
The Pro LX rangefinder, which has a range of 900 yards, has the option of red of black display and features slope technology. It comes in a sturdy carry case with an optional clip to attach it to your bag.
Packed with features, the H4 is supplied with 16 tracking tags which screw into the end of your grips. It has two key functions – a GPS unit with 36,000 pre-loaded courses giving distances to middle, front and back of greens and hazards. Updates take course changes into account and there are no fees or subscriptions to worry about either.
Combined with the tracking tags, it provides more than 100 statistics that can be downloaded to your computer or mobile devices so golfers can analyse their performance.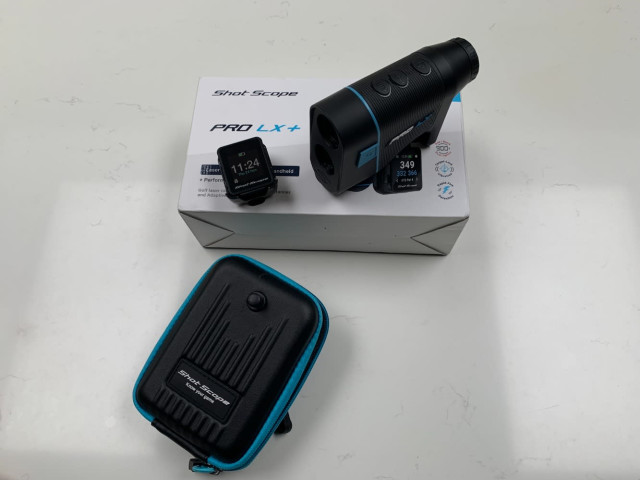 Performance
On testing, the Pro LX rangefinder proved a very handy device – literally. It is well designed to cleverly fit into one hand perfectly, snuggly wrapping around the thumb to ensure a steady hand when pin seeking. The display is clear and easy to read and the unit vibrates when it locks onto the target. You can choose between black and red graphics – the red is great in low light conditions. I liked the two modes it provides – M1 gives an immediate target fix, while the M2 continuous scanning mode provides accurate distance readings as you move the unit across the hole in play, which is useful when surveying your shot options. The H4 GPS unit attaches to the rangefinder by a strong magnet and provides an ideal second option when it comes to choosing which club to hit.
It can also clip onto your belt or trolley, a better option for club tagging.
It is small but fairly easy-to-read and also straight forward to use when you have the hang of it.
The battery life is something to keep an eye on, however. Not only is it wise to charge prior to every use, but powering down the unit is not as obvious as the instructions suggest and until you work out what to do you may end up with an empty battery.
The H4 comes into its own when used for performance tracking.
Before attaching the tags to your clubs, you need to download the Shot Scope app and assign each tag to a club so it can be recognised by the software.
I found it took some practice to understand how to use it properly and first time out it was a distraction to my pre-shot routine. You need to tap the tag on your club to the device before each shot so distance and positions can be recorded, which I found off-putting initially, especially on the green.
Once a round is uploaded to the app you can check how far you hit each club, its flight and a lot more. I know I tend to hit too many shots straight left but seeing the facts on a graph was somewhat sobering, but also encouraged me to put work in to correct the fault. Overall I loved seeing the results it provided and look forward to analysing my less obvious strengths and weaknesses in more detail as I use it more.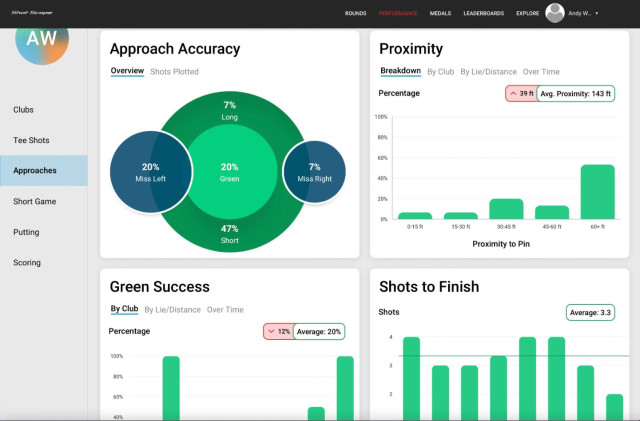 Verdict
This is a great piece of kit providing accurate yardages and brilliant performance analysis and would be a welcome addition to the bag of the golfer who has nearly everything and is keen to improve. The performance tracking gives a wealth of information which should help anybody looking to eliminate their weaknesses.
Pros
Accuracy and an all-in-one package at a reasonable price point.
Cons
Tracking takes a bit of getting used to and tagging is a bit of a faff and if you are like me it will be a distraction to begin with. At least you can edit inputs on your computer or smart device post round if you forget to tag.
Bottom Line
This is a product that offers the best of all worlds for golfers who have a thirst for minute detail which they can use to help reduce their scores.
Used properly you will be able to spot trends in your play in great depth – both good and bad – and work out areas where you need to improve, thus setting targets to work on to better your scoring.
---
BUY ONLINE TODAY