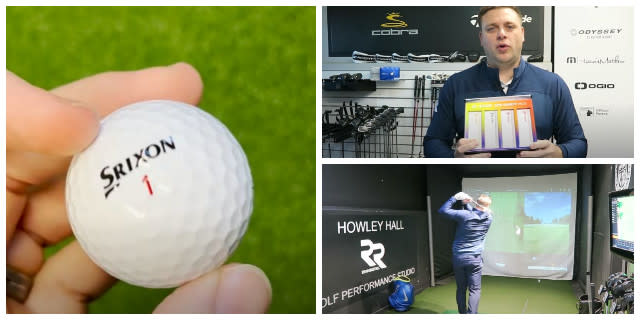 Srixon has revealed the next generation of its Z-STAR Series, with four new golf balls scheduled to be released on the market from 24th February 2023. Golfshake's Equipment Expert, Ryan Rastall, takes a closer look at each of the balls in detail from his Performance Centre at Howley Hall Golf Club in Leeds.
Made with an extra thin, urethane cover that provides tour level stopping power around the greens, the Z-STAR Series gives players more bite for more spin. Paired with the new Spin Skin+ to increase the cover's degree of friction to enhance approach shots and greenside spin on every shot, Srixon claims this new generation will offer unmatched performance and feel. 
Inside the Z-STAR Series is the new FastLayer DG Core, which is soft at the centre and gets firmer from the inside out. The design of this core is intended to maintain a satisfying feel, while also providing ball speed. 
The Z-STAR is engineered with a thin mid-layer and softer compression to prioritise softer feel and approach shot spin, while the Z-STAR DIAMOND has a firmer compression to optimise iron spin and distance. The Z-STAR XV's unique core achieves a soft centre that increases dramatically in hardness with an evenly distributed hard outer edge, which boosts ball speed for increased distance and enhances iron spin.
Each Z-STAR Series ball features Speed Dimple, the 338 aerodynamic dimples improving overall launch even when wind conditions aren't ideal. Its deep dimensions create a low drag coefficient that helps the ball stay on target and maintain distance, while keeping a penetrating ball flight in headwinds.
Included in the Z-STAR Series is the Srixon Z-STAR DIVIDE golf ball. With its unique 50/50 Visual Performance in Yellow/White, this ball is a high-performance, tour-quality option made to see the game in a whole new way.
The Z-STAR DIVIDE feature Srixon's new FastLayer DG Core, new Spin Skin+, and Speed Dimple. 
Key Innovations Inside Z-STAR Series Golf Ball
New FastLayer DG Core: Starts soft in the centre and dramatically becomes firm around its edge, giving high-speed players exceptional feel and plenty of ball speed for maximum distance. 
New Spin Skin+: A durable coating that digs deep into your Wedge and Iron grooves, maximising spin for better control and stopping power.
Speed Dimple: Less drag and more lift boosts overall distance and flies straight, even in the toughest wind conditions.
Retail Information
Z-STAR, Z-STAR XV, Z-STAR DIAMOND, Z-STAR DIVIDE – £47.99 / €58.
Srixon's Z-STAR and Z-STAR XV are available in Pure White and Tour Yellow, while the Z-STAR DIAMOND will be available in Pure White. 
Launch Date: 24th February 2023.
---
BUY GOLF BALLS ONLINE at Scottsdale Golf / BUY GOLF BALLS ONLINE at American Golf