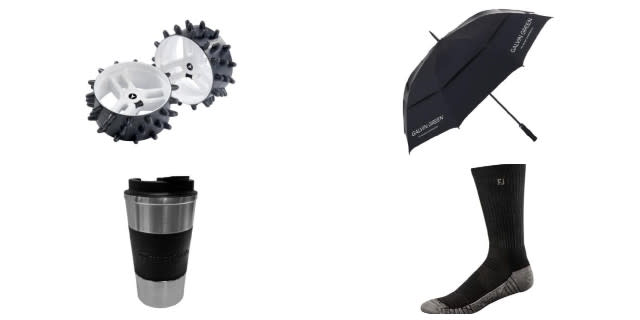 In the third of Golfshake's winter golf buying guides, we're taking a look at accessories. To be sure, the main staples of equipment when it comes to navigating winter golf are undoubtedly waterproofs and other clothing apparel, but you shouldn't forget about things like umbrellas. Nor should you overlook other, less obvious additions to your winter golf armory: we're talking about things like winter wheel covers, and groove cleaners. In this feature, we run down our picks for the winter golf accessories you shouldn't do without.
---
The Best Winter Wheels For Golf Trolleys
Motocaddy Hedgehog Wheels
Grip (when it comes to both golf shoes and trolleys) can be a commodity in short supply over the winter months. To help you tackle the slippery turf you wouldn't think twice about investing in a set of good cleats for your golf shoes, so why not do the same for your trolley wheels? Motocaddy offer five different models of hedgehog wheels which feature spikes to keep your trolley on the straight and narrow, spanning a spiked push trolley set (£39.99),12V hedgehog winter wheels (£89.99), 12V hedgehog DHC winter wheels (£89.99), 28V hedgehog winter wheels (£89.99), and 28V hedgehog DHC winter wheels (£89.99). 
BUY ONLINE at Scottsdale Golf (£79.99)
BUY ONLINE at American Golf (£89.99)
BUY ONLINE at Golf Support (£79.95)
PowaKaddy Kaktus Winter Wheels
These Kaktus (a brainchild of PowaKaddy) wheels offer an easy fit alternative to the Motocaddy hedgehogs. They feature a similar spiked design to help keep your trolley rooted to the turf while also lifting the trolley a little way above the ground, reducing contact with the soil surface. In this way, the Kaktus wheels not only keep your trolley from sliding but also help prevent damage to fairways, which as we all know become more vulnerable during winter.  
BUY ONLINE at American Golf (£79.99)
Masters Kaktus Golf Trolley Winter Wheels 
These spiked wheels are designed to be added to any push/pull trolley with a wheel tread width of 7cm. Their Terrastud rubber spikes – which are sturdy and durable – reduce the surface area between your wheels and the courser, helping to keep your trolley from sliding while also reducing damage to fairways. One further advantage of these wheels: lacking the premium name of Motocaddy or PowaKaddy, they're very cheap. 
BUY ONLINE at Scottsdale Golf (£29.99)
Hedgehog Fairway Protector Winter Golf Wheel Sleeves
For players who don't fancy investing in brand new, winter specific wheels, and incurring the additional cost of doing so, you might consider simply buying a set of wheel covers. Clipping onto the outside of your extant wheels (providing they're around 10"), the Hedgehog Fairway Protectors do much the same job as other wheels on this list but at a more affordable price. They're also easy to clean: just detached and soak, and then reattach when dry. 
BUY ONLINE at American Golf £29.99
PowaKaddy Winter Wheels
PowaKaddy's standard winter wheels are a popular product, and it's clear why: the open tread design has been manufactured to spread the load evenly across the wheels, helping to prevent putting too much stress on the ground and hence saving fairways. The design also provides great traction, especially on wet turf – ideal for winter playing.
BUY ONLINE at Scottsdale Golf (£79.99)
BUY ONLINE at American Golf (£89.99)
BUY ONLINE at Golf Support (£74.95)
---
The Best Winter Thermal Mugs For Golf
TaylorMade Thermal Mug
There are few things better than a hot coffee, soup or other hot drink for helping ward off the cold and boost morale during a round of golf in winter. If you're wanting a hot drink on the course it makes sense to get a thermal mug to store it in and, thankfully, TaylorMade have just the product: made from premium stainless-steel, with a plastic rim to save your hands and a TaylorMade logo (to keep your golfing credentials), there are few more effective and stylish ways to keep your drinks hot than this.
BUY ONLINE at American Golf (£14.99)
PGA Tour Travel Mug Gift Set
Those not wanting to buy into a particular brand but still needing something to keep their drinks hot on a round this winter may take a look at this PGA Tour travel mug, which comes with two branded balls, tees and a ballmark repairer into the mix, too. It therefore makes a great Christmas present – perhaps something to be stashed in a stocking or given to a golf-mad relative – or a standalone item. LIV golfers need not apply.
BUY ONLINE at American Golf (£19.99)
It's Tee Time Golf Travel Mug
This 16oz travel mug has a white backing with a witty print showing off your's or your loved one's golfing habits. It has a capped lid which is easily operated and ideal for sipping coffee as you go around. Additionally, it features a double wall insulated stainless-steel body and will keep your drinks toasty and warm.
Golf Addict Travel Mug
For those looking for a cheaper option, the Golf Addict is a good pick at just £9.99. It's made from stainless steel and comes complete with funny printing showing golf club insignia and the phrase 'The game of golf is the greatest distraction ever created by mankind'. We think that rather undersells our wonderful sport, but hey ho: it certainly looks the business on this flask.
---
The Best Groove Cleaners 
Callaway Groove Cleaner Brush
With wet turf and grass a factor like never before, you'll be sure to need groove cleaners this winter, at least if you're serious about playing your best golf. Callaway's multi-purpose cleaner does the business, coming with two brushes, one hard, one soft, to scour different surfaces, and a ribbed plastic handle for easy grip. With a red and black patterning and Callaway logos, it's a good-looking scamp too, while a carabiner clip provides usability.   
Masters 3 in 1 Golf Multi Cleaner Brush
At less than a third of the price of the Callaway, this groove cleaner is a bargain and then some. For your money you get three different bristles: a brass brush, for getting out really tough surface dirt on the face, a soft brush for less intractable jobs, and a spiked cleaner specially for digging dirt out of grooves and club number lines. It's an ideal buy for someone looking for a value groove cleaner or struggling to consider what to put in a golfing family member's stocking.
---
The Best Winter Golf Socks
FootJoy TechSof Tour Thermal
FootJoy is the byword for comfort and performance in the golfing shoe market. Socks, too. Featuring anatomically shaped foot-beds providing enhanced cushioning in targeted areas of high impact, these thermal socks will support your feet while keeping you warm.
BUY ONLINE at Scottsdale Golf (£14.99)
BUY ONLINE at Golf Support (£9.99)
FootJoy TechSof Tour Crew
Stylish, and understated socks these, which provide good support and breathability – two key factors for winter play. There's a double-layered heel which ensures that you won't injure yourself tackling schloshy winter ground and, of course, you can take great pride in wearing the FootJoy logo.
BUY ONLINE at Scottsdale Golf (£11.99)
BUY ONLINE at Golf Support (£9.85)
FootJoy ProDry Quarter
This is one for those who want the FJ product but value a lower riding sock, The quarters stretch up only a little of the way of the longer Tour Crews, giving a different style for golfers who appreciate it, while keeping the mesh breathability, reinforced padding and cushioned sole for performance. DrySof moisture control technology is distributed throughout the sock.
BUY ONLINE at Scottsdale Golf (£6.49)
BUY ONLINE at Golf Support (£7.29)
Under Armour Cold Weather Crew 2pk
Under Armour have a long pedigree of making wet weather products, and their socks are of a piece with this lineage. Made from soft acrylic and wool, they are knit to lock in heat but also feature wicking material to make sure that any sweat is evaporated and dries quickly. This feature is aided by a mesh panel at the top of the foot, allowing your foot to breathe. Don't forget that there's a fitted heel either.
BUY ONLINE at Scottsdale Golf (£10.95)
BUY ONLINE at American Golf (£11.99)
BUY ONLINE at Golf Support (£9.99)
Under Armour Heatgear Crew 3pk
Featuring Under Armour's patented HeatGear fabric, which wicks away sweat, these socks are another good option for the winter months. Mesh panels give breathability, while there is also bulk and arch support to help stop your feet feeling sore and tired while you navigate the squishy winter terrain. 
BUY ONLINE at American Golf (£9.99)
BUY ONLINE at Golf Support (£7.98)
Stuburt Crew Socks 2pk
These are good-looking, effective winter socks with a black and checkered gray design that traditionalists will appreciate. Like others in this list they feature a cushioned sole and padding to help save your feet. An elasticated ribbed top helps with fit. 
BUY ONLINE at Golf Support (£9.99)
Stuburt Crew Socks 3pk
Available in white or black, with a classic Stuburt logo etched into the cuffs, the Crew Socks look the part and will also help keep your feet warm with padding and ribbing for a smooth fit. There is an argument, however, given pricing that you're better off getting the 2pk, since the product is essentially the same, but there's less of a mark-up.
BUY ONLINE at Golf Support (£9.99)
Stromberg Men's Edge Crew
Stromberg carries on its reputation for delivering quality products with these socks, which offer comfort and support as well as high-stretch content and a great fit. There's also additional cushioning to keep you as comfortable as possible when worn.
BUY ONLINE at American Golf (£9.99)
PING Men's Sensorcool Crew Golf Socks 2pk
The PING Sensorcool Crew Socks prioritise comfort. Mesh gives breathability, while the sock has been shaped for a more anatomical fit to make them easy to wear. The seam is free toe, helping to reduce irritation and gives superior comfort, helping you to stay out on the golf course for longer. Other features include; zoned cushioning, arch support for improved fit and anti odour, thanks to the ventilation.
BUY ONLINE at Scottsdale Golf (£12.99)
BUY ONLINE at American Golf (£14.99)
BUY ONLINE at Golf Support (£14.99)
---
The Best Winter Umbrellas
Galvin Green Tromb
A 60″ storm-proof umbrella that features an extra strong frame and double layer top cover to provide ultimate protection in rainy conditions. The umbrella also offers UPF +50 protection from the sun on hot days and is available in Red and Black/Silver.
BUY ONLINE at Scottsdale Golf (£45.00)
BUY ONLINE at Golf Support (£39.95)
Motocaddy Clearview Umbrella
Featuring two clear viewing panels to keep visibility at a premium whilst remaining dry. It extends to 65mm longer than a standard golfing umbrella and features an auto-open mechanism and extended handle length. Also compatible with the Motocaddy Umbrella Holder.
BUY ONLINE at Scottsdale Golf (£39.90)
BUY ONLINE at American Golf (£39.99)
BUY ONLINE at Golf Support (£39.95)
FootJoy DryJoys Umbrella
This is a stylish umbrella – as, to be fair, you'd expect from FootJoy – in a classic colour: black. There's a soft handle which allows you to grip the umbrella effectively while remaining comfortable. 100% lightweight waterproof protection is offered so you can feel safe from the rain. 
BUY ONLINE at Scottsdale Golf (£32.99)
---
Related Content
The Best Winter Golf Hats to Buy
The Best Winter Golf Gloves to Buy
The Best Winter Golf Hand Warmers
6 Benefits of Playing Golf Through Winter