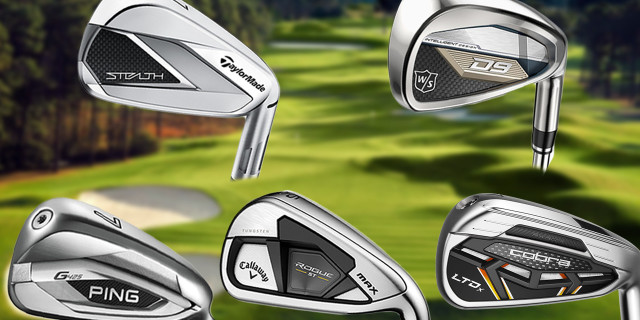 2022 saw new releases from Callaway, Cobra, Wilson and many other manufacturers in the iron department, and there were some especially big advances seen in the realm of mid-to-high handicappers, with distance and forgiveness coming in spades. 
Here, we've rounded up our picks for the top 5 mid-handicapper-targeted irons that impressed us the most throughout the year. Your presenter is Ryan Rastall, Golfshake's Equipment Expert and Head Professional at Howley Hall Golf Club in Leeds. Read on for the full lowdown on these clubs and be sure to watch the video to get Ryan's full review of these clubs.
THE TOP 5
Callaway Rogue ST Max
A new contender from Callaway from the start of this year, the Rogue ST Max caught our eye for offering a fantastic blend of power and forgiveness that is rivalled by few other irons on the market, and will definitely help you launch the ball, almost regardless of how you strike it. With the strongest lofts in the Rogue ST family, the ST Max are tuned for power above all, and this was borne out when Ryan Rastall hopped on the TrackMan with these clubs and promptly registered some of his best numbers to date. As with other models in the Rogue ST range, these irons benefit from AI designed faces which have been optimised to deliver more ball speed and, just as importantly, consistency, as well as to even out spin rates across the irons for a more reliable ball flight across the line up. Compared to previous Callaway models, these irons have had Callaway's patented urethane microspheres advanced to higher up the face to enhance sound and feel. Additional forgiveness is provided courtesy of tungsten weighting which comprises up to 62g of high-density tungsten. This is 260% more than featured on Callaway's previous MAVRIK irons and is designed to improve launch and ball speed even and perhaps especially on off-centre hits. 
Key Tech
AI designed Flash Face Cup for more ball speed and consistency
AI face optimisation for more spin consistency 
62g tungsten weighting for better launch
Urethane microsphere for feel
What Golfshake Say
"It's very easy to get this iron up in the air and the forgiveness is really crazy as well. You can hit this iron off the heel and the toe – pretty much all over the face really – and get some fantastic results from it."
For Ryan's full review of the Callaway Rogue ST Max irons, click here!
Cobra LTDX
With PWRSHELL and PWR-COR technology, Cobra have ramped down the centre of gravity on their latest iron and the reward is a high launch and spades of forgiveness – just what you need if you're a mid-handicap player in search of an iron to flatter your swing. Using a steel bar, Cobra have also positioned the centre of gravity directly behind the main hitting area of the face to improve power, but this doesn't come at the cost of feel: a soft polymer addition ensures that the ball still feels buttery soft when you strike one. Compared with the previous iteration of Cobra irons, the LTDX have a 23% larger thin area outside of the centre of the club, meaning that you get more forgiveness and ball speed on less than perfect hits. As with Cobra's LTDX driver (which made our shortlist of the top 5 best drivers, too), these irons benefit from a CNC milled face and grooves. As well as looking mightily attractive behind the ball there is a palpable performance benefit to this craftsmanship: more accurate groove shapes result in increased spin and improved accuracy, with the result that buying these clubs should see you hit more greens. 
Key Tech
PWRSHELL face for more ball speed
PWR-COR for more speed and feel
CNC milled face and grooves for greater spin rates and accuracy
What Golfshake Say
"These irons have loads of forgiveness all over the face. Certainly here at the club we've sold a lot of these irons because they're so forgiving, they look great and they perform fantastically well as well."
For Ryan's full review of the Cobra LTDX irons, click here!
Wilson D9
While these irons have actually been around for a few seasons now, the Wilson D9 continues to sell strongly, and we can see why. As well as its excellent looks (which really bely its status as a game-improver club), this iron caught our eye for its performance which weighs up comparatively well against any of the competition in this category. The D9 was forged by way of an Intelligent Design process whereby Wilson compared thousands of head shapes and Power Hole arrangements, ultimately settling on just one – the pick of the bunch – which optimised distance and speed. With a high launch and low spin without sacrificing accuracy, the D9 is well worth a look for any mid or high handicap players in the market for new sticks, as Ryan Rastall found out in his full review earlier this year. 
Key Tech
Intelligent Design for high launch and low spin
Power Hole tech for increased power and speed
What Golfshake Say
"This is a seriously powerful iron which has always performed well against other mid-handicap irons on the TrackMan. It's definitely one you should be looking at in this range."
For Ryan's full review of the Wilson D9 irons, click here! 
PING G425
PING have been in among the leading brands in the game improver irons category (and increasingly among players' irons too) for many years now, stretching all the way back to their pioneering PING Zing range which introduced perimeter weighting into irons. The G425s are the latest in its popular G line and more than live up to this rich legacy. Performance comes courtesy of several innovations, including a tungsten toe screw and hosel weight which provide more perimeter weighting and forgiveness than ever before in these PING irons. This is supported by a stainless steel face with Hyper 17-4 technology for increased ballspeed. The face, modelled after PING's woods and drivers, is tailor built for power and speed. The head has an extremely high MOI, but within limits, PING have shaped this iron like a players' club, going for a smaller head and thinner topline compared to its G410 predecessor. Rather like the Wilson D9s then, this is a club that packs a lot of forgiveness into a slim frame and is easy on the eye while helping you hit more greens.
Key Tech
Tungsten perimeter weighting for forgiveness
Hyper 17-4 stainless steel face for ball speed
Patented cascading sole and top-rail for faster speeds and stopping power
Multi-material badge in cavity for enhanced feel and sound
What Golfshake Say
"This iron has been exceptionally popular because it performs so well. There's a really nice wide sole but this G series is probably the sleekest looking we've seen throughout the years."
For Ryan's full review of the Ping G425 irons, click here!
TaylorMade Stealth
TaylorMade's Stealth driver earned a spot on our top 5 drivers list for 2022 and a slot in the bags of many of TaylorMade's top tour pros, including Rory McIlroy, too. While the irons, being targeted at game improvers have had less of an uptake on tour, their popularity has exploded among amateurs who have been drawn in by their sexy looks and excellent performance. A new look Cap Back Design is the central feature, and it doesn't just give good appearance: it also adds flexibility to the face and amps up ballspeed. AI has been used, as with other irons in this list, to ensure that forgiveness is spread most efficiently throughout the face, that is, at the most common impact points, helping you to hit the ball further and more accurately. A low CG gives high launch, too. Many golfers spurn cavity back, game improver irons over the perceived loss of feel compared to traditional bladed clubs. While this is true as a rule, new technology has recently been bridging this gap and this is certainly the case with the TaylorMade Stealth whose ECHO damping system gives a better vibration profile than typical for such clubs, bringing the feel more in line with traditional forged irons. The best of both worlds.
Key Tech
Cap Back Design with toe wrap construction is engineered to improve face flexibility and deliver faster ball speeds
Intelligently positioned sweet spot that spans the most common impact points
ECHO Damping System absorbs unwanted vibrations for better feel
What Golfshake Say
"When this iron came out we couldn't believe how far the balls were going when we were hitting it. The iron head and the technology packed within it causes the ball to go a hell of a long way with excellent forgiveness."
For Ryan's full review of the Taylormade Stealth irons, click here!
OTHER STANDOUT IRONS THIS YEAR
Srixon ZX4
Surely among the best looking game improvement irons you'll find on the market, the Srixon ZX4s are mint and well worth considering for your next set. Like the Cobra LTDXs, these irons come complete with milled faces, which improve accuracy and spin, especially with regard to consistency of strike. Furthermore, these are hollow headed irons, bringing multiple benefits. First, and most notably, we have the excellent looks, which mimic traditional blades while naturally being a bit chunkier behind the ball (on account of the extra space and technology). However, there are also clear forgiveness benefits to this design, as well as a higher launch on offer. Tungsten in the base of the long and mid irons gives a higher launch while those at the lower end of the set are spared this addition to keep the ball flight down when you need it in the higher lofted irons. A forged HT1770 Steel face enhances speed and distance while a 431 Steel body absorbs vibrations for softer feel. 
Key Tech
Milled pattern on the backside of ZX4's face maximises COR for more ball speed
Tungsten in base of long and mid irons for high launch
Tour VT sole for smooth turf glide
Progressive grooves for more spin when needed
What Golfshake Say
"The feel off the face with these clubs is amazing. I cannot stress enough how good they feel. For those out there looking for something with a higher flight, forgiveness but that also looks really nice behind the ball, this could be the iron for you."
Mizuno JPX921 Hot Metal
Mizuno are long known for making forged players irons with excellent feel and shot shaping capacities but in recent years they've made inroads into the game improver market with great effect. These – the JPX921 Hot Metal – irons continue this trend, creating Mizuno's fastest ever ball speeds with a low boring flight and shots that stop promptly on impact. Mizuno's patented Chromoly technology, with a re-engineered CORTECH face provides the bulk of the performance advantages courtesy of a thin face (now 0.2mm less than before) across the centre for generous zip. There is also a cup face, which allows the leading edge to act as a hinge and generate greater face flex at impact and ball speeds. Three sound ribs have been added over the previous Mizuno model for a better sound at impact, and, just as importantly, a more solid feel. 
Key Tech
Chromoly 4140M for faster face
Cup face for more face flex and speed
Three more sound ribs for better sound
Pearl brush finish for anti-glare
Perimeter weighted frame for forgiveness
What Golfshake Say
"These irons go a long way – it's frightening in terms of the distance I was getting on the TrackMan."
For Ryan's full review of the Mizuno JPX921 Hot Metal irons, click here!
Titleist T400
Titleist bills these irons as its most forgiving and you can see why at merely a glance. They're another hollow headed iron, and that helps give them not only fantastic looks but plenty of heft behind your strikes and oodles of forgiveness. Things begin with an incredibly fast Super Thin L-Face, with a lower edge that wraps around the sole to keep high ball speed – and this is true even when you catch one a little skinny. Spaced throughout the set for variable launches, in the lower lofted irons there is up to 100g of tungsten positioned at the bottom of the face, feel and toe for a lower centre of gravity and higher launch, too. The hollow head isn't just a fashion statement: it allows for a high MOI and moveable weight, creating longer and straighter shots across all clubs, all within a classic Titleist package that you'll know and trust. 
Key Tech
Super Thin L-Face for distance and forgiveness
Up to 100g tungsten weights for lower GC and higher launch
Sole for turf gliding increase
Hollow face ups MOI for forgiveness
What Golfshake Say
"These irons feel really really solid off the face. If you're someone who's previously struggled fitting into a Titleist iron the T400 could be for you."
For Ryan's full review of the Titleist T400 irons, click here!
---
Related Content
Check Out Golfshake's Gear Section For More Features & Reviews!